The Trim Trail is Here!

MARS are delighted to announce the arrival of our purpose built fitness and fun trail. The trail runs around the perimeter of the Recreation Field and is ready for use right now.

The trail officially starts where the car park meets the Community Orchard. Head off over the ladder climb and angled scramble net and track across to the slack line rope balance. Aim to cross the slack line without falling off. Follow the new path through the copse, (feel free to stop and build a den if you wish,there is plenty of space now) and up the new ramp onto the field. Before you reach the ramp, there will shortly be a 3m high scramble net for you to negotiate but for the moment we are trying to agree the exact details with ROSPA (Safety people!). Once on the field, on your immediate right is the new sit-ups bench.

In time (more funding required I'm afraid) you will finish your sit-ups and be confronted by a 40m Zip Wire - not great for fitness but great fun! For the moment then, head across the cricket mats and along the rear hedge line to traverse the Monkey Bars. From there, continue your sprint, jog, amble along the hedge line behind the skate ramps and take on the Parallel Bars. CAUTION - Unlike the Olympic style gymnast Parallel Bars, these are completely rigid, so start with simply traversing alongs them or some dip exercises before attempting loops, twists and somersaults. Following your dismount, follow the outside fence of the MUGA and pass in front of the Container. As we raise funds for the Zip-Wire we will be raising them as well to add a Traversing Wall to the side of Container. Until then, just keep going and take on the balance course. Can you get along the balance logs without falling off?

Next head for the bottom corner of the small pitch and try the Pull Up Bars - three different heights so something for everyone. Now comes the lung bursting 50m sprint along the side of the main pitch, past 'Jim's Bench' and put in some step ups or even tricep dips on the bench seating. Your almost home but ahead of you are five height adjustable hurdles (if you just let them hang from their securing chains, they are a great height for little ones). Clear the hurdles and descend the tyre built steps back to your starting point.
Get around as fast as possible, pause and seriously exercise at each stance or just stop and play as you go. The trail is suitable for ALL ages and the choice is entirely yours.

​If you would like to get involved with the further development of this fitness trail and indeed the wider site. MARS really needs your support so just contact us and get involved.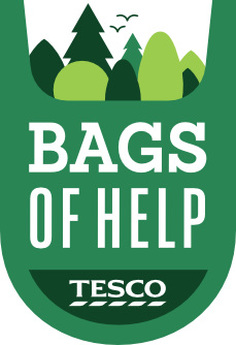 21 Feb 2016 - Queen Elizabeth II Recreation Field wins Tesco 'Bags of Help' funding for a Trim Trail project - Just how much funding depends on you!

Tesco has teamed up with Groundwork to launch its Bags of Help initiative in hundreds of regions across England and Wales. The scheme will see three community groups and projects in each of these regions awarded grants of £12,000, £10,000 and £8,000 – all raised from the 5p bag charge.

Bags of Help offers community groups and projects in each of Tesco's 390 regions across the UK a share of revenue generated from the five pence charge levied on single-use carrier bags. The public will now vote in store from 27 February until 6 March on who should receive the £12,000, £10,000 and £8,000 awards.

How fantastic then that Modbury, well known for being the first town in Europe to become plastic bag free, has been selected to receive a grant of up to £12,000 towards a new Trim Trail at the Recreation Ground. Please show your support by voting in store at Tesco Lee Mill from 27 February until 6 March and help make a difference in your community.
​

---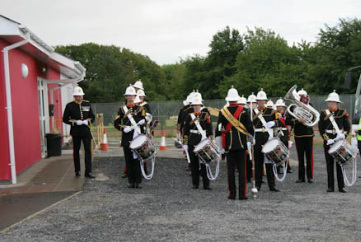 A Normal Day at Modbury Recreation Ground!


Saturday 20th June 2015- The Royal Marine Band make use of Modbury's Sport's Pavilion facilities.


The Royal Marine Band were in Town this weekend, supporting a fundraising event for the Sea Cadet Corp at Sheepham Mill. MARS were delighted to make the Pavilion changing facilities available and provide a base for the band for the duration of their attendance at the event.
---
Added 1 May 14 See fixtures and events page for details on whole raft of new fitness classes starting in Modbury in May
added 11 Mar 14 Cycle racing returns to Modbury next weekend - Sunday 23rd March. The spectacular Modbury Circuit Race returns to the roads around Town next weekend with a large field contesting this popular road racing event organised by Cycle Sport South Hams. Racers will compete over 3 circuits of the 10 mile loop - Modbury, California Cross, Kittaford, Ugborough, Ermington, Flete, Modbury. Starting from the Recreation Ground, the race will finish in Barracks Lane, hopefully with an exciting bunch sprint. This is a great spectator event, so do give the racers your support. Race starts at 10:00
DREAM COME TRUE: Gathered for the pavilion opening (from left) Gary Streeter, MP, Bernard Leach, Devon County FA, opener James Brent, Plymouth Argyle owner and chairman, South Hams District Council Chairman Cllr Bryan Carson, Peter Dunning, Community Council of Devon, Peter Watts, Chairman of MARS and Modbury Parish Council, Lee Ryder Devon County FA, Cllr John Tucker, leader South Hams District Council, Richard Mitchell Modbury Developments Ltd. PHOTO: Amy Stanford






Life on MARS has changed forever!
Life on MARS for the sporting men and women of the Modbury Association of Recreation and Sport has now changed forever following the opening on Saturday (November 2) of their new pavilion – made possible by grant from the Football Foundation, South Hams District Council, Sport England, South
Devon Coastal Local Action Group and the Community Council of Devon.

The new building is a far cry from the temporary facility at Marley Garage with its one toilet and tap serving as the only changing room. Now for those sportsmen on MARS, Modbury Rovers Junior Football Club, Modbury Rovers Veterans
Football Club, Bridge Football Club (an adult football team), Modbury Tennis Club, Modbury Cricket Club and Cycle Sport South Hams plus other local groups their social and sporting life has changed for the better.
The grand opening saw Peter Watts (MARS chairman) joined by civic VIPs for the opening by James Brent, chairman and
owner of Plymouth Argyle Football Club in front of scores of
supporters and well-wishers.

Pete Watts, chairman of MARS said at the opening: "The dream
of providing such a superb sports pavilion for Modbury would not have been possible without the help and
encouragement of all the official benefactors, together with amazing local support from so many within the community of Modbury. This development will make a great deal of difference to the sporting ambitions of Modbury's sons and daughters for many years to come."