Modbury's Queen Elizabeth II Recreation Field is home to Modbury Rovers Junior Football Club, Modbury Cricket Club, Modbury Tennis Club, Bridge FC and Modbury Rovers Veteran's Football Club. We also host a number of cycling events over the course of the year, organised by local cycling clubs. Details and appropriate links for all these clubs are contained below.
MODBURY CRICKET CLUB ('The MCC')
Founded in 2010
Contact
: Rodney Bomford
rodney@bomford.eclipse.co.uk
or 01548831277
Juniors: Tuesday evenings from 6pm, all ages 10-16, all standards welcome £1 per week subs
Net practice: Wednesdays, April to mid-September (in suitable weather) from 5.30 to 7.30, on the MARS ground.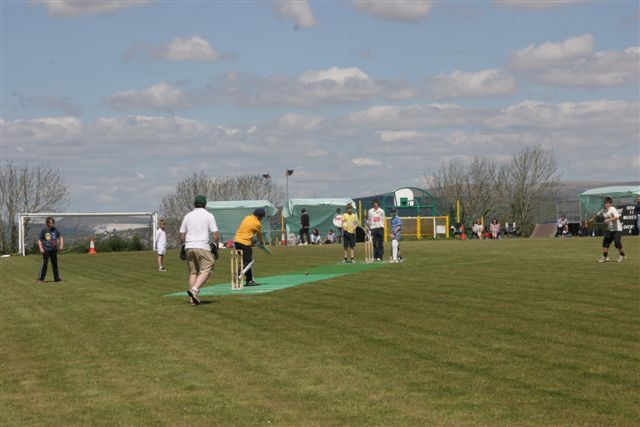 Matches: The adult team usually plays against local villages on Sunday afternoons. These are all away matches as we have no home ground, though practice games are sometimes played on the MARS field. We aim to be inclusive, rather than merely ambitious, and selection (when necessary) is based on commitment to club activities rather than ability. One or two women play occasionally and others are welcome, as are any new players who want to join. In 2013 we arranged ten matches and aim to play more as the number of players available increases.

Juniors: The Club started a Junior section in 2013 aimed at allow local youngsters aged 10-16 to play cricket without having to travel outside of the Town to one of the more established clubs. Regularly attracting up to 14 boys and girls to Tuesday evening training, two training matches were achieved in our first season and there are real aspirations to form a league team in the years to come.

Nets: With the assistance of MARS and Sport England, the Club installed two all-weather nets in 2012. These have proved most successful and effective and are the centre point for all club training evenings.

Cricket Ground: Modbury does not have a cricket ground. Consequently all matches are played away and the Juniors will be unable to enter teams on a league basis until a home ground is established. Addressing this need is a priority for MARS but raising the necessary funds to buy, level and install a cricket ground on any land purchased for such a purpose will require the support and backing of the local community. Please do get behind MARS' vision to extend the Recreation Field to provide additional football, general sport and full cricket facilities.
CYCLING IN MODBURY
The Recreation Ground in Modbury lies just 100 metres off a popular 15mile cycle racing circuit known as the Modbury Circuit. This route hosts a number of local club races over the season and the Recreation Ground makes for an ideal starting point, with a good sprint finish on the approach road to the ground. Additionally, the Recreation Ground has provided one of the designated refreshment stops in the impressive 'Hammer' event, a 90 mile cycle sportif with far more hills than flats and definitely not one for the faint hearted!
CYCLE SPORT SOUTH HAMS
Based in Kingsbridge in the heart of the South Hams. Cycle Sport South Hams aim to promote involvement in all aspects of
cycling. Members are encouraged and supported to develop their riding through all aspects of cycling from road, mountain
bike and cyclo-cross racing, to fun family rides. As a British Cycling 'Go-Ride' club, we are dedicated to the development of young cyclists in the South Hams. There are many ways to get involved, come along to a
Club time trial
or
Saturday Leisure Ride
where you will meet many club members.

Point of Contact
- William Hornby
whornby@yahoo.com
07950493041
Main Club Session
- Club Weekly Ride 0930 Kingsbridge Quay next to the Tourist Information Centre
Modbury Tennis Club

Summer sessions

: 6.30 pm until dusk Friday evenings and 9.30 am until midday Sunday mornings

Winter sessions

: 9.30 am until midday Sunday mornings.

MTC has two hard surface outside courts in good condition with a small club pavilion. Throughout the year we organise mini tournaments and coaching sessions. The club has a mixed team and ladies team which enters the South Hams Tennis League. We have a majority of family memberships with frequent young players using the facilities.

Point of Contact: Paul Eden 01548 831064

modburytennisclub@btinternet.com